At Cheers convenience stores, we provide ATM machines located in our premise for your banking convenience.
Wish to withdraw cash, check your account balance, transfer money, pay a bill? No problem, you can quickly make
These AMT transactions here at Cheers and also catch up with your shopping needs in our stores at the same time.
Save your time and hassle, visit our stores today.
Cash Services at DBS ATMs
Withdrawals
S$10, S$50 notes at all machines
S$2, S$5, S$10, S$50 and S$100 at selected machines
Deposits
S$10, S$50, S$100 notes accepted
S$2, S$5, S$10, S$50, S$100 and S$1,000, including deposit into third party DBS Corporate Accounts at selected machines
Notes Exchange
S$2, S$5, S$10, S$50 and S$100 at selected machines
Other services available at ATMs
Balance Enquiry
Bill Payments
Funds Transfers
Card Services – Credit / Debit/ ATM Card PIN Reset, Card Activation, Enable /
Disable Card For Overseas Use
Instant Passbook Update
Investment Services – Subscriptions and Payments of Shares and Bonds
Top-up of your mobile prepaid card / NETS CashCard / NETS FlashPay / EZ-Link Card / Concession Card
The above ATM service information was extracted from the DBS website source. For a more updated information on the bank's ATM services, please visit the link below:
https://www.dbs.com.sg/personal/deposits/bank-with-ease/self-service-banking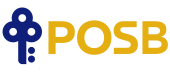 Cash Services at POSB ATMs
Withdrawals
S$10, S$50 notes at all machines
S$2, S$5, S$10, S$50 and S$100 at selected machines
Deposits
S$10, S$50, S$100 notes accepted
S$2, S$5, S$10, S$50, S$100 and S$1,000, including deposit into third party DBS Corporate Accounts at selected machines
Notes Exchange
S$2, S$5, S$10, S$50 and S$100 at selected machines
Other services available at ATMs
Balance Enquiry
Bill Payments
Funds Transfers
Card Services – Credit / Debit/ ATM Card PIN Reset, Card Activation, Enable / Disable Card For Overseas Use
Instant Passbook Update
Investment Services – Subscriptions and Payments of Shares and Bonds
Top-up of your mobile prepaid card / NETS CashCard / NETS FlashPay / EZ-Link Card / Concession Card
The above ATM service information was extracted from the POSB website source. For a more updated information on the bank's ATM services, please visit the link below:

https://www.posb.com.sg/personal/deposits/bank-with-ease/self-service-banking

Cash deposit:
Coins or Notes or both Cash and notes all in one place
Cash withdrawal:
Based on your daily withdrawal limit in a single transaction
Above your daily withdrawal limit in a single transaction
Selection of notes denomination (S$10 and S$50)
Change of personal details:
Change contact numbers
Change address
Change email
Card related services:
Activate/deactivate card for overseas use
Change of ATM withdrawal and debit card spending limits
Link or unlink accounts for ATM use
Account related services:
View balance and transactions
Reactivate accounts
Link or unlink accounts for ATM use


The above ATM service information was extracted from the OCBC website source. For a more updated information on the bank's ATM services, please visit the link below:
https://www.ocbc.com/personal-banking/help-and-support/atms/general