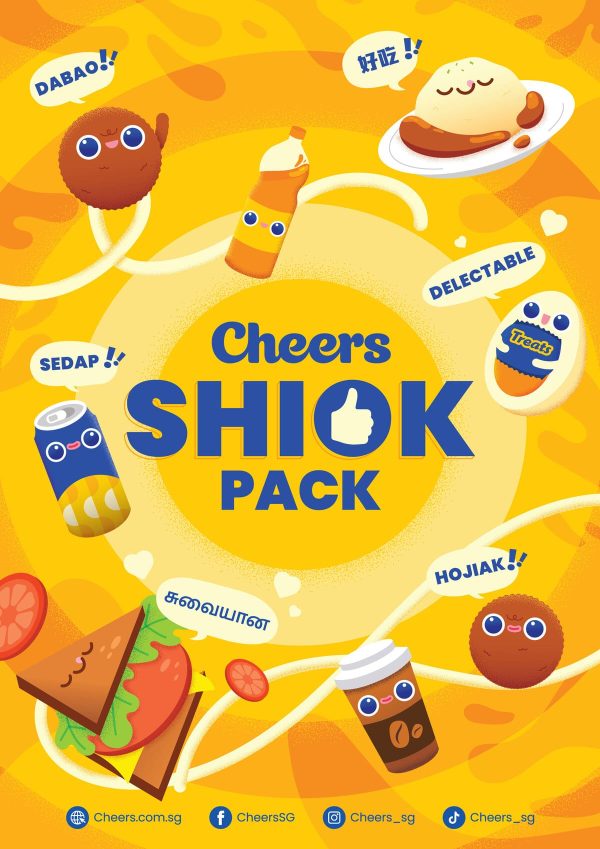 Frequently used as an expression of general approval or of food as tasty and delicious, "Shiok!" is a colloquial term generally shared by Singaporeans regardless of race, language or religion. Presenting the Cheers SHIOK! Pack that comprises a wide range of items such as souvenirs, locally made snacks and beverages that are all proudly made in Singapore. The pack also boasts a fun design, full of adorable food motifs such as spaghetti, curry rice, drinks, snacks and egg, all hollering different local words that mean "delicious"! It makes a great gift for everyone, from business travellers to honeymooners and Singaporeans studying or working overseas.
So, what can you expect in our SHIOK! Pack?
A ready-to-eat bowl of Irvin Salted Egg Cup Noodle
A pack of Crusty's Salted Egg Fish Skin
A jar of Wang Kaya
A box of Merlion Chocolates and;
A Cheers exclusive Hello Kitty plushie (15cm)
SHIOK! Packs are priced from $38 onwards and products vary from store to store. SHIOK! Packs are available only at Changi Airport T1 , T3 departure and T3 arrival.